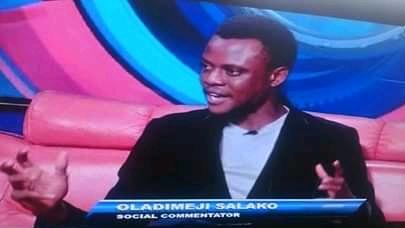 Salako
The declaration as illegal of Amotekun, a security network recently launched by Governor's of the Southwest Nigeria continue to provoke reactions from respected stakeholders in Nigeria.
It should be recalled that Nigeria's justice minister Abubakar Malami had posited that the inauguration of a paramilitary organisation Amotekun by south-western states of the country is contrary to provisions of the law, therefore declared illegal.
Meanwhile SALAKO Azeem Oladimeji, a renowned TV political analyst has said that, it is a good development that the security outfit 'Amotekun' has heated the Nigeria polity, therefore serving as test to the nation's rickety federalism.
Speaking today Friday, 17th January 2020, as guest analyst on Bumper Breakfast Show, a television program on MITV.
SALAKO mentioned that the history of anything called 'meaningful sustainable development' in Nigeria particularly since the return of the nation's Nascent democracy in 1999, can be best termed as 'Development by contradiction'.
He said, it is almost a grounded consensus that Nigeria is bedeviled with chronic bad leadership who has strong emotion for personalizing public wealth.
But he rejected the popular saying, that, nothing good has been recorded since their unfortunate emergence. He said, this statement is an exaggeration of our political situation.
According to him, what is true is that we have recorded very little and this little are not deliberately provided. They have been product of 'elite contradictions', which he predicts Amotekun will be one of such.
While acknowledging Amotekun as a welcome development, he cautioned the Southwest governor's not to bow to political solution.
SALAKO said, if you study the contemporary political climate in Nigeria, and if we want to be politically real, we will agree that, elections has always been a factor that determines the actions of our political leaders.
Again, it is correct to say that 'pursuit for electoral success' consequently resolves this contradiction to the favor of the most strategically placed side. So, I predict a possibility of federal government rescind his decision on Amotekun, but this will be temporary, a political solution he declared.
What should be done is to take the issue straight to the court and let us for once practically test the carcass and remnant in our celebrated ruse federalism. This will convince Nigerians that Amotekun is beyond grandstanding. It will also be a lesson to other sections of the country and it can in turn become the Almighty solution that will end the issue of insecurity in Nigeria he concluded.